Six Essential Questions in Indian Public Finance
Review article based on Studies in Indian Public Finance by M Govinda Rao
Abstract
In his latest book, Dr. M Govinda Rao, one of India's foremost public finance experts, distills the insights of the field of public finance for students, scholars, practitioners, and lay readers alike. Studies in Indian Public Finance is a must-read for anyone interested in Indian public policy.
Keywords:
Public Finance, Taxation, Public expenditure, Intergovernmental transfers, Subsidies, M Govinda Rao
Downloads
Download data is not yet available.
References
Rao, M.G. and Mundle S (1991), 'Volume and Composition of Government Subsidies in India, 1987-88'. Economic and Political Weekly 26, no. 18 (5 June 2015): 7–8.
Rao, M.G. and Kumar S (2017), 'Envisioning Tax Policy for Accelerated Development in India', NIPFP Working Paper 190, (February 2017)
Mahendru A et al., 'Inequality kills: India Supplement 2022'. Oxfam India (16 Jan 2022)
Engel, Eduardo M., Galetovic, A. and Raddatz, Claudio E., 'Taxes and Income Distribution in Chile: Some Unpleasant Redistributive Arithmetic'. NBER Working Paper No. w6828, (December 1998). Available at SSRN: https://ssrn.com/abstract=141491
Rao, M.G. 'Tax Sops - Their Cost and Efficacy'. Business Standard India, 4 May 2010. https://www.business-standard.com/article/opinion/m-govinda-rao-tax-sops-their-cost-and-efficacy-110050400031_1.html.
'Tax Policy Is Not Kamadhenu, Says Govinda Rao | ET BFSI'. Accessed 2 September 2022. https://bfsi.economictimes.indiatimes.com/videos/tax-policy-is-not-kamadhenu-says-govinda-rao/89664599.
Rao M.G., 'Central Transfers to States in India: Rewarding Performance While
Ensuring Equity', NITI Aayog (September 2017)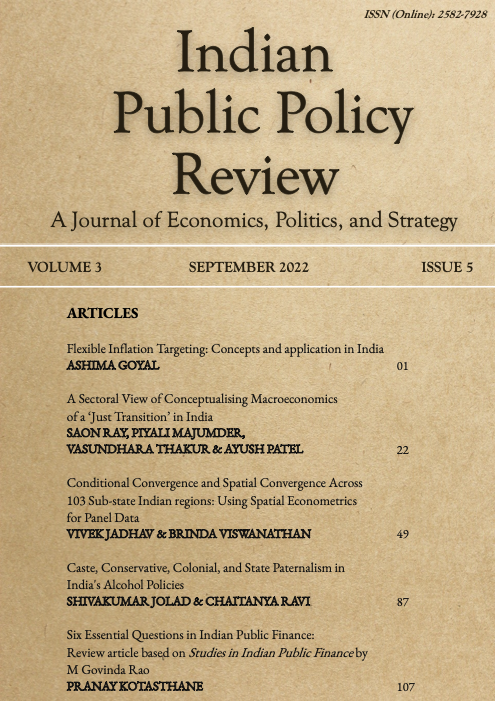 Downloads