Digitalization for Public Expenditure Accountability and Transparency (d4PEAT)
A re-engineered framework for Public Finance Management in India
Abstract
Reforms in public expenditure management in India, especially in accounting and administrative processes, have lagged behind the reforms in public revenue management. Lack of uniform accounting codes, limited data standards, and standalone systems across different tiers of governments have led to issues related to data comparability, data aggregability, and misclassification of data. In addition, lack of a single source of truth and inadequate end-to-end digital data capture limits the efficiency, tractability, and accountability of public funds. Limited just-in-time fund-flows, where fund disbursals and actual expenditures are not in tandem, further increases the uncertainty in government transactions. This study identifies the touchpoints where mainstreaming digitalization could address these fundamental challenges of public expenditure management through an actionable roadmap in the form of d4PEAT framework. A composite score under d4PEAT framework for each level of government is calculated, which can be used to rank their performances and assess the progress made in mainstreaming digitalization of public expenditure management.  The framework charts a process for debate, suggest areas where policy reforms can be initiated in India, leading to enhancing accountability and transparency in public spending.
Keywords:
Public expenditure management, d4PEAT framework, Digitalization, Fund-flow architecture, Accountability, Transparency
Downloads
Download data is not yet available.
References
CAG. 2020. "Concept Note on Electronic Financial Transactions and Data Standards." Comptroller and Auditor General of India. https://cag.gov.in/uploads/guidence_notes/guidanceNotesPracticeGuides-05f91825458fc50-52277021.pdf.
———. various years. "State Finances Audit Report." Financial Audit Report.
Financial Management Unit South Asia Region. 2009. "India–Himachal PradeshPublic Financial ManagementAccountability Assessment." Report No. 48635-IN. Washington, D.C.: The World Bank.
Iyer, Indira, and Soumi Roy Chowdhury. 2022. "Mainstreaming Digitalization Of Public Expenditure To Enhance Accountability And Transparency: Pushing The Frontiers Through Real-Time Innovations." Washington D.C.: George Washington University.
Jena, Pratap Ranjan. 2010. "India- Public Expenditure and Financial Accountability: Public Financial Management Performance Assessment Report." New Delhi: National Institute of Public Finance and Policy.
Mathew, Santhosh, and Devesh Sharma. 2020. "State Capacity by Design: Enabling Officials to Succeed." New Delhi: Bill and Melinda Gates Foundation.
OECD. 2002. "OECD Best Practices for Budget Transparency." France: OECD.
The World Bank Group. 2020. "The Global Report on Public Financial Management." Washington, D.C.: The World Bank. https://www.pefa.org/global-report-2022/en/report/global-pfm-performance/.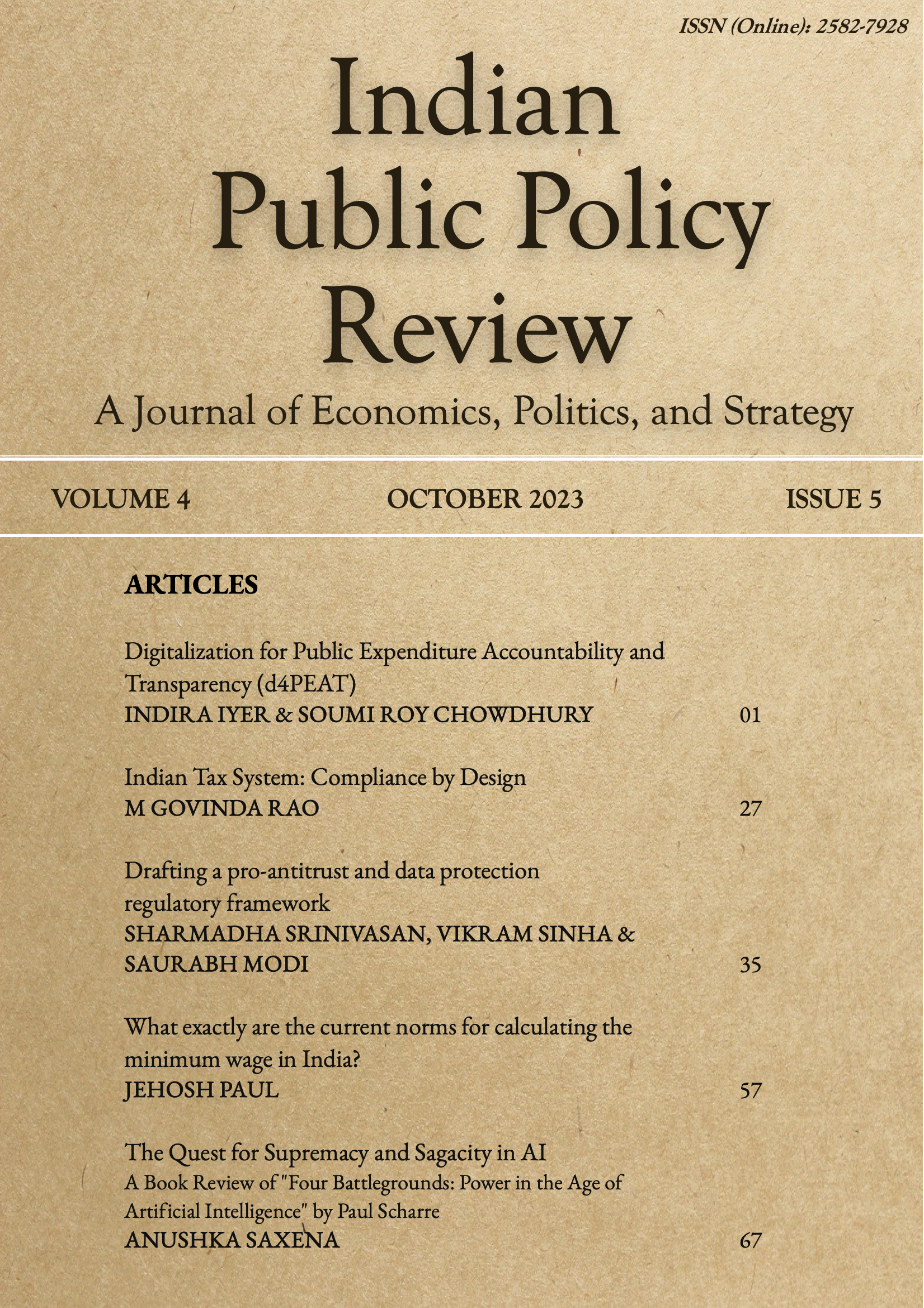 Downloads