Size of Government in Kerala
Bulging Department of Agriculture in a Decentralising Structure
Abstract
Kerala has devolved a large number of functions, funds and functionaries to the local governments. The state reports the highest number of local government functionaries per 1000 population among the Indian states. Adhering to the principle of subsidiarity would suggest that line departments at the state level reduce in size. The paper analyses the size of the state government in terms of employment, and in particular examines the efficiency of the Department of Agriculture by comparing the number of employees per unit area under cultivation in Kerala with that in Karnataka and Telangana. The findings are that Kerala reports 86 percent higher number of total employees per lakh population compared to Karnataka and about 25 percent higher than that in Telanagana. As regards the Department of Agriculture, while in Kerala an employee attends to 141 hectares, it is five times that area at 778 hectares in Telangana and ten times that area at 1425 hectares in Karnataka. The proportion of drivers, typists and clerks in the department in Kerala is also high. Running revenue and fiscal deficits and facing fiscal stress year after year for the last twenty years, where salary accounts for over 30% of the total revenue receipts, the state can aim for rationalization of its administration in order to have more resources for capital spending.
Keywords:
Government Size, Agriculture, Government Employment, Efficiency, Kerala, Decentralisation
References
Baumol, W J. and W G. Bowen. Performing Arts-The Economic Dilemma. Cambridge, Mass: Twentieth Century Fund, 1966.
Comptroller and Auditor General of India. Report of the Comptroller and Auditor General of India on Economic Sector for the year ended March 2019, Government of Kerala, Report of the Year 2021. https:// cag.gov.in/
Finance Commission of India. XV Finance Commission Report Volume IV 2020. https://fincomindia.nic.in/
Harilal, K N.. "Confronting bureaucratic capture: rethinking participatory planning methodology in Kerala." Economic and Political Weekly, 48(36), (2013): 52-60.
Isaac, T and R W. Franke. People's Planning: Kerala, Local Democracy and Development. New Delhi: Leftword Books, 2021.
Matteo, L D. Measuring Government in the Twenty-first Century: An International Overview of the Size and Efficiency of Public Spending, Fraser Institute, 2013. www.fraserinstitute.org
Mandl, U, A Dierx and F Ilzkovitz. The effectiveness and efficiency of public spending (No.301). Directorate General Economic and Financial Affairs (DG ECFIN), 2008.
Ministry of Personnel, Public Grievances and Pensions. Second Administrative Reforms Commission: Reports, 2006. https://www.darpg.gov.in/arc-reports
Narayana, D. "Good governance in Gram Panchayats of Kerala: Not so good?" in Handbook of Decentralized Governance and Development in India, edited by Rajasekhar D, 184-198. London: Routledge, 2021.
Narbón‐Perpiñá, I., & De Witte, K. "Local governments' efficiency: a systematic literature review -part I". International Transactions in Operational Research, 25(2), (2018): 431-468.
Peacock, A T., J Wiseman and J Veverka. The growth of public expenditure in the United Kingdom (Vol.1). London: George Allen & Unwin, 1967.
Reserve Bank of India. State Finances a Study of Budgets of 2017-18 and 2018-19, 2020.
https://rbidocs.rbi.org.in/rdocs/Publications/PDFs/0SF_271020FCF77451F1DF744B2B244875C785B8EF3.PDF
Wagner, Adolph. Finanzwissenschaft. Vol. 4. CF Winter, 1883.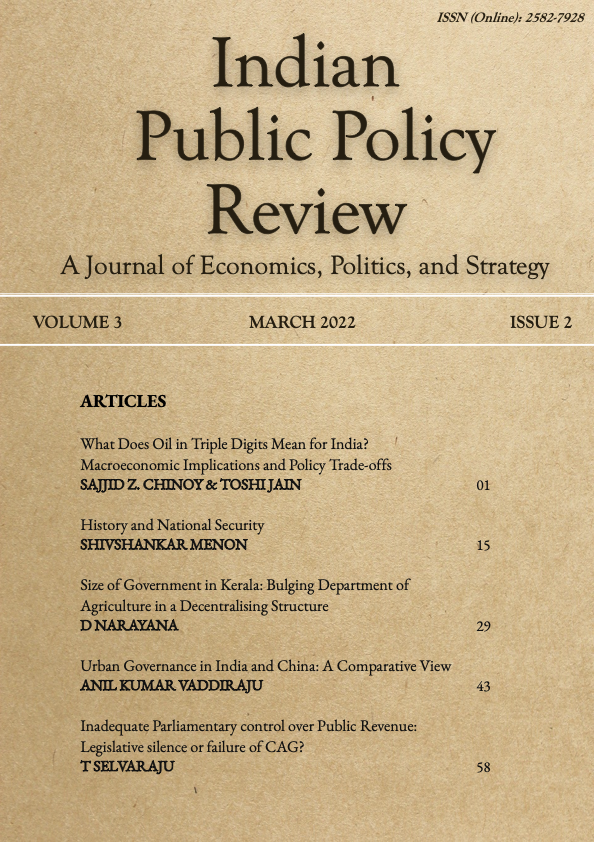 Downloads