Reorganisation and Strengthening of the Indian Public Audit System – Reforms Overdue
Abstract
The objective of this study is to ascertain whether the Comptroller and Auditor General of India (the Supreme Audit Institution of India) functions as per its given mandate, and whether it requires any reorganisation and further strengthening. There is conflict of interest in keeping the accounts for States and auditing them by CAG, with potential scope to adversely impact the quality of both accounting and auditing. Further, ever since 1976, CAG continues to perform entitlement functions for employees of a majority of States, without any statutory authority, thus incurring irregular expenditure. With the present level of audit coverage, all the auditable units by CAG could not be covered in a way that can provide an assurance as to the completeness and timeliness of audit. The susceptibility of public finance to the political regime, the meagre rate of expenditure (about Rs. 32 for checking of financial transactions worth Rs. 1,00,000), and significant recovery of public money at the instance of audit provide adequate justification for strengthening of audit with more human resources. Thus, reorganisation of the institution of CAG to make it an exclusive audit institution, along with strengthening it (with adequate human resources) would better serve the objective of its creation.
Keywords:
Reorganisation of IAAD, Conflict of interest, Ultra-Vires action of CAG, Compliance of Audit, Strengthening of Audit Instituions
Downloads
Download data is not yet available.
References
Brochure on Comptroller and Auditor General's (Duties, Powers and Conditions of service), Act 1971 (web-site - cag.gov.in)
Combined Accounts of Union and State finance for 2018-19 - https://cag.gov.in/uploads/combined_accounts/Union-State-Finances-Glance2018-19-0607800c98e0012-60664951.pdf
Comptroller and Auditor General's (DPC) Act, 1971 (web-site - cag.gov.in)
Constituent Assembly proceedings
Constitution of India
Controller General of Accounts (web-site - cga.gov.in)
Government of India Act, 1935
Government of India (Audit and Accounts) Order, 1936
Performance Reports for CAG for the years 2011-12, 2018-19 and 2019-20 (cag.gov.in)
Regulations on Audit and Accounts, CAG, 2020 (web-site - cag.gov.in)
R. K. Chandrasekharan, Comptroller and Auditor General of India, Analytical History, 1947-1989, Volume I (web-site - cag.gov.in)
T. N. Chaturvedi, Role of the Auditor General in Public Accountability, Government Auditing, Ashish Publishing House, New Delhi, 1987, pages 22-23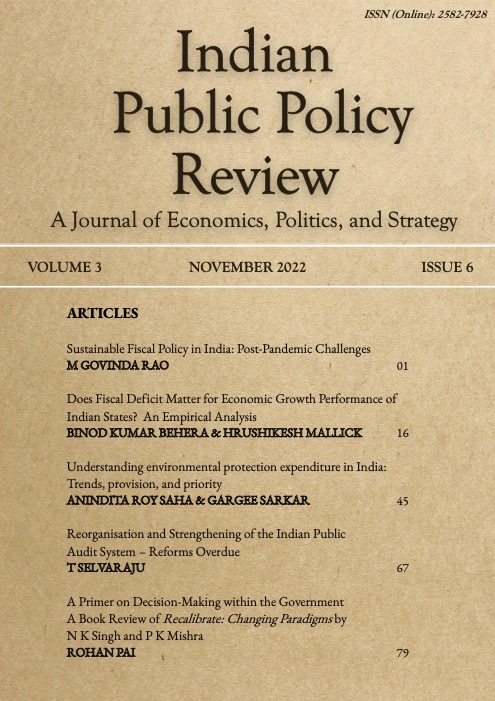 Downloads