Vol. 2 No. 5 (Sep-Oct) (2021): Indian Public Policy Review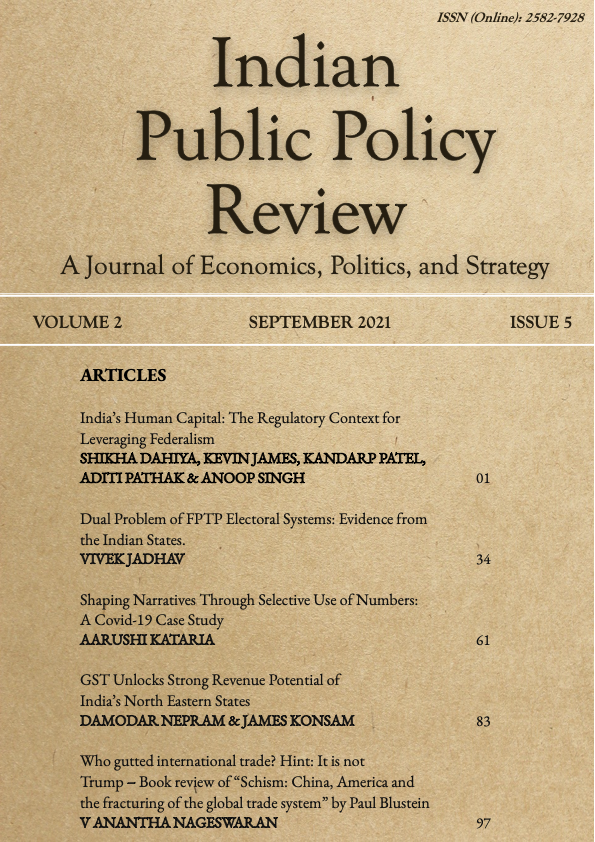 IPPR is a peer-reviewed, bi-monthly, online and an open-access journal, which carries original, analytical, policy relevant papers, book reviews, and commentaries, inter alia, Economics, Political Science, International Relations and Security, Political and Defence Strategy, and Science and Technology Policy.
In this anniversary issue, Shikha Dahiya et al. note the growing centralisation in India's human capital interventions and instead suggest a more decentralised and targeted approach within India's federal structure. Vivek Jadhav's paper measures and analyses the political concentration and inefficiency that characterise the disproportionate representation caused by the First Past The Post electoral system followed in India. Aarushi Kataria examines the content of over a thousand press releases by the Government of India during the COVID-19 crisis and argues that they served as a mechanism for the government to shape narratives in a manner that showed it in a positive light. Damodar Nepram and James Konsam explore how India's North Eastern states benefitted from the introduction of the Goods and Services Tax. Finally, Anantha Nageswaran reviews Paul Blustein's book "Schism: China, America and the fracturing of the global trade system".
Full Issue